The Autocar Road Test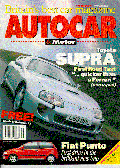 from "AUTOCAR" SEP 93
Toyota Supra
A Supra with supercar performance and the dynamics to match. Who would have thought it?
HAD THINGS GONE according to plan for Toyota, we should have seen the new Supra two years ago. Toyota knew exactly what it wanted the replacement for its successful but ageing coupe to look like and it knew how fast it needed to go.
Then the bomb - large, extremely powerful and Nissan 3OOZX-shaped - dropped, sending Toyota's engineers running for their drawing boards.
So, a round of applause to Nissan - not for stopping Toyota dead in its tracks but rather for forcing it to raise the game of the Japanese supercoupe to hitherto unimaginable heights. It did this by ensuring that the Supra's replacement would arrive so late in the day that if it did not take the world by storm from its very first photograph, it would never stand a chance of recovering the ground lost first to the 3OOZX, then the Mitsubishi 3OOOGT and Mazda RX-7.
Thankfully, Toyota has fielded this unexpectedly fast-moving ball with masterful authority and produced what is, in our view, the quickest front-engined, rear-drive car yet point to point - and that includes the new BMW M3. This is as much a replacement for the old Supra as the Aston Martin DB7 is for the DB6.
But there has been both a literal and metaphorical price to pay: at £37,500 it not only costs a cool £11,700 more than the outgoing Supra but also more than all its selected rivals apart from the underachieving Mitsubishi 3OOOGT. Also, such is the rarefied atmosphere of the market in which it now finds itself that Toyota aims to sell just 250 units a year in the UK through 25 of the 69 dealers holding the Lexus franchise. At its peak, more than 3000 old Supras made their way on to British drives each year.
Performance *****
Both this Supra and its forebear are powered by a turbocharged three-litre 24-valve straight six, but that is the length, breadth and depth of their common ground. The new car actually has a fractionally larger capacity of 2997cc (up from 2954cc) and two turbos acting sequentially, like those fitted to the Mazda RX-7. And its power is quite beyond anything we have yet seen in this class.
This engine liberates 326bhp at 5600rpm and an indomitable 325lb ft of torque at 480Orpm, which is fed through a six-speed Getrag gearbox and Torsen differential before reaching the rear wheels of a car that is actually lighter than the old Supra. With a power-toweight ratio of 210bhp per tonne (compared with the 149bhp per tonne of old), then-and-now performance comparisons serve only to speak ill of the dead.
Now its impressive urge below 4000rpm is simply a warm-up act, setting the scene for the arrival of the second turbo. You can hear it coming - a high-frequency whistle spearing out of the pleasant but unremarkable straight six hum, followed by snap acceleration that straightens your right arm and sends the left scurrying after the next ratio.
Getrag developed the sixspeed 'box in conjunction with Toyota, and its heavy mechanical feel, precision and super-short throws mean you never have to worry whether the next gear will engage smoothly or not. Slam the lever in the desired direction and, so long as the clutch is fully depressed, acceleration remains furious until you reach sixth. That the rate slows in top is no hardship, especially as you don't need to select it until you reach the far side of 150mph. Despite the fact that sixth is rated at 28.1 mph per 1000rpm, the Supra still reaches the legal limit from 50mph before all its rivals bar the preposterously fast (and 20 per cent shorter geared) BMW M3.
Turn your attention to all-out acceleration and the figures say that this swiftest of all vaguely affordable coupes is, in fact, a genuine front-engined supercar: you simply cannot argue with times of 0-60mph in 5. 1 see, 0-,100mph in 12.3sec and 30-70mph in 4.7sec. Who would have thought it of a Toyota Supra?
Only its top speed fails to grab the front page: its electronically limited maximum of 156mph is exactly par for the class course. Without its restraining order, Toyota intimates something closer to 180mph is feasible.
There is, however, disappointment in this engine. just as it's true that it splits its personalities either side of 4000rpm, it is also an inescapable fact that performance is delivered with insufficient immediacy if you allow the revcounter needle to fall far below 3000rpm. While this might be explained away as an occupational hazard of a turbo engine pushing out 109bhp for every litre, it remains a poor substitute for the throttle response of a similarly powerful but larger and normally aspirated V8. Its sound, too, contrives to blunt the edge of your driving enjoyment; while the engine remains smooth and utterly unruffled even at its 7100rpm cut-out point, it is unable to offer its driver the merest aural stimulation to match its massive power output.
Economy ***
Clap eyes on the Supra for the first time and you just know it's going to drink faster than medical students during happy hour. But in fact, you'd be wrong. Its 18.7mpg overall may not endear it to the green lobby, but compared with the rotary-engined RX-7's profligate 15.5mpg it is almost reasonable, especially when you consider that 29.0mpg is easy if you keep the second turbo at bay. A useful 80-litre (1 7.5-galIon) fuel tank means it will do about 350 gentle miles before the warning light directs you to the next petrol station.
How the Supra fights the flab
DESPITE BEING A THIRD MORE POWERFUL THAN ITS FOREBEAR, THE NEW SUPRA ACTUALLY WEIGHS 26kg less. Keeping the Supra's weight down proved to be a far from easy task, though; the provision of air conditioning, two airbags, electric motors for the driver's seat, the traction control system, anti-lock brakes and extra-fat wheels and tyres all contrived to push its weight skywards. Aluminium was one of the keys to redressing the balance. Five times lighter than steel, it is the metal from which all four upper wishbones are made, as well as the front suspension cross- member, front engine mounting and bonnet. Use of the latest plastics technology helped, too, a hollow bead resin reducing the weight of the rear wing, while the high-density polyethyrene used for the fuel tank saved a useful 4kg. Otherwise, Toyota simply cut out the items it considered unnecessary. It tested a twin-pipe exhaust system, but when it was found to be no more efficient than a single pipe, it was discarded along with the telescopic steering column. If you want a real clue to how hard Toyota tried, consider this: even the carpet fibres are hollow ...

Handling ****
Nothing less than the wheel control afforded by double wishbones at each corner was good enough for Toyota's chassis engineers, while state-of-the-art Michelin Pilot tyres of 255140 section at the rear and 235145 up front are fitted to the I7in light alloy rims. And as anyone who read our annual feature on Britain's best-handling cars (11 August) will know, the Supra has heroic levels of grip. The tyres deserve at least part of the credit for this, although they are not, in fact, particularly wide in comparison with the class norm. The remainder; of the praise should be heaped, in piles on both the car's structure, which provides exceptional rigidity, and the suspension, which builds on this foundation to provide, a level of body control that we have not seen in this class or any other below that of the very fastest and most expensive supercars. What this means in real terms is that no obstacle you are likely to encounter in the course of a cross-country blast should interfere with the tyres' purchase on the road. Hit a ridge or bump halfway around a corner and while you may hear a slight thump from the suspension, you are unlikely. to feel so much as a shimmy from the tyres. Similarly, take to a violently undulating and broken road - one that would force most fast cars to shed speed to save the stomachs of those on board - and the Supra will rocket along, as unperturbed as a hovercraft on a logoon. Yet as they did with engine, Toyota's engineers, in their noble quest to create a chassis of peerless ability, have left the door open for other, technically less capable rivals to provide the driver with the real fun and, as a result, a potentially richer driving experience. You should not doubt how quickly a Porsche 968 or a Nissan 3OOZX would shrink in the mirror of a fast-driven Supra, but nor should you be surprised to see the Porsche and Nissan drivers wearing the larger smiles at the end of the road. It's essentially the fault of the steering, which, while well weighted, precise and sensibly geared at 2.8 turns across the locks, lacks sufficient feedback and often makes you feel like you're wearing thick mittens as you drive. The information telegraphed to your backside comes similarly padded. These communications would not be missed quite so much if the Supra had nothing more to offer the driver than sheer grip. But when it dawns on you that beyond the tyres' limits (artificially enforced by a mercifully switchable traction control system) lies a land from where understeer has been exiled to make room for neutral handling and safe powerslides, the omission of this final pleasure is particularly missed.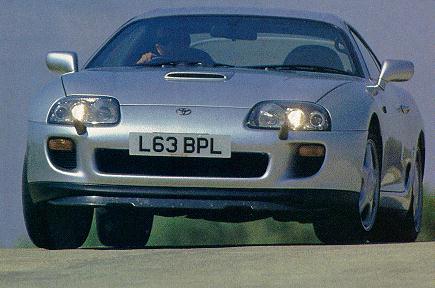 Ride ****
The Supra's ride is a little disconcerting when you drive the car for the first time in town. You notice first that the suspension is extremely firm, and second that this results in a slight restlessness over urban pocks and pits. Then you see the lightweight aluminium bonnet jiggling in sympathetic vibration as the wheels jump in and out of potholes, and hear the corresponding thump from the suspension, and you're halfway to convincing yourself that it's too harsh by far. By the end of your first decent drive, though, your thoughts are likely to have tumed on themselves. Yes, it seems unsettled in town, but you actually hear and see much more than you feel, while out on the motorway its virtuoso damping makes a mockery of nigh on every undulation to come your way. Needless to say, its ability to corner flat and stick resolutely to your chosen line through country bends works wonders for your sense of security and your passenger's comfort.
Brakes *****
Enormous spiralventilated discs and four-piston calipers look after the front wheels, while more conventional but even larger ventilated discs are fitted to the rear hubs. Together they master the Supra's performance with total authority. Repeated stops from more than 100mph have scarcely any effect on their efficiency, while near-perfect pedal feel and the refusal of the antilock system to cut in until the last moment combine to form a braking system that's at least the equal of any rival.
At the wheel **
Despite the wealth of sporting cars to come out of japan during the '90s, there has yet to be one with an interior that does justice to the car's dynamics. The Supra does nothing to change this. in fact, after the visual drama of its external appearance, its cabin comes as a disappointment. Picking holes in the design is simple. The instruments, which copy the RX-7's copy of the Porsche 911 by giving pride of place to the revcounter, are charmless. The column stalks work well enough, but some of the minor switches are arranged untidily in the dashboard and many, like those in front of the gearshift, are difficult to read and reach comfortably on the move. In its defence, it should be said that the driving position is sound for all but the exceptionally tall, despite the deletion of telescopic steering wheel adjustment, and visibility is excellent, even if that massive rear wing can look uncannily like another car when you glance over your shoulder prior to changing lanes.
Accommodation and comfort **
It might seem hard to justify even two stars for a car that is incapable of comfortably housing more than one small child in its rear compartment. But we must judge such limitations against the standards set by its rivals, and if you look down the list it becomes lamentably clear that the BMW is alone in offering space for two in the back. The front of the Supra seems airy and spacious, and headroom is fine, but those who sit in the passenger's seat will find that legroom is disappointingly restricted. The boot, too, is dreadful it's too shallow and tricky to load thanks to its extremely high loading lip. Stowage space is poor; there are no doorbins and the small central cubbyhole is difficult to access comfortably from the driver's seat. At least there's a reasonable-sized glovebox (quite an achievement when you consider that there's a passenger's airbag too) and map pockets in the backs of the front seats.
Noise ****
There aren't terribly many cars in which I would welcome more noise, but you just might in the Supra, if it was of the right sort emanating from the engine. Its refinement, however, is beyond serious criticism and its suppression of road noise deserves special praise when you consider the width of those Michelin tyres.
Build quality and safety ****
While the Supra's structure lacks the sense of sheer substance possessed by its German rivals, it remains a beautifully constructed car. Panel gap accuracy is millimetric; the only possible quibble is with some of the cheap-looking plastic used in the interior. The Supra is only a set of seatbelt pre-tensioners away from leading the field in passive safety gizmos. Two airbags and side impact bars are Toyota's proudest safety boast, but when you have a car with this level of performance, grip and braking, your chances of avoiding the accident altogether are perhaps just as significant.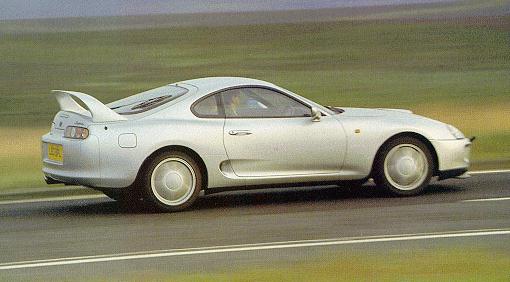 Equipment and value ****
The only option is a four-speed automatic gearbox, yours for no extra money. Leather upholstery, air conditioning, cruise control, an electrically adjustable driver's seat, traction control and two anti-theft systems are all standard. This means that although the Supra is one of the more expensive cars in its class, it is also one of the best equipped.
Verdict
This Supra is as fast and modem as its predecessor was slow and outdated. It sets a new class standard for its performance and new world standards of grip for a front-engined, two-wheel-drive car. For the depth and integrity of the engineering it contains, it deserves to be praised long and loud. Yet the anticipation of a long drive at dawn won't keep you awake the night before. This is a car that earns your respect in the first five seconds yet is one we suspect the true enthusiast could drive for five years without ever loving. Once you're used to its explosive abilities, it is unlikely to raise your pulse to the levels achieved by the RX-7 and 968. It's more inspired than inspiring. For many it will be all they want and more. Others might forsake it for a rival that's slower and more dynamically flawed. We wouldn't blame them, either. Sometimes less is more.
Price as tested £37,500 Top speed 156mph 0-60mph 5.1 sec MPG 18.7
For Performance, grip, chassis control, refinement, build quality, equipment.
Against Steering feel, poor accommodation, uninviting interior, poor ergonomics