Tuned Supras Blitz the 'Ring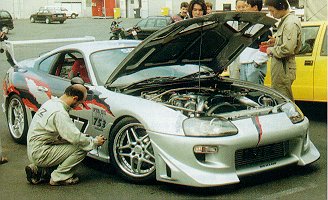 from "AUTOCAR" 24 September 1997
Blitz, a highly regarded Tokyo-based Toyota tunning company, caused quite an impact when it fronted up at the Nurburgring last week with two highly strung Supras and a team of 20 engineers.
Blitz works with Toyota's own Racing Developments division in Japan on go-fast componentry and power enhancing managment systems. It brought the Supras to Germany to gauge their speed against a host of European performance machinery. The legendary 13-mile-long circuit is still regarded as one of the most demanding tests of a car.
After a drawn-out set-up phase, a Blitz test driver managed a sizzling time of 7min 21sec around the shortened Nordschleife, well inside the times quoted by industry insiders for cars such as the Porsche 911. BMW M3 and Nissan Skyline GTR. To achive this, however, the boost pressure on the Supra's heavily reworked 2JZ GTE turbocharged and intercooled 24-valve 3.0-litre in-line six cylinder engine had been cranked to over 3 bar. That equates to something like 650bhp, according to technicians who were on hand to sort out suspension settings - up from 330bhp on the Japanese market Supra. It also featured other changes, including new aliminium from double wishbone suspension.
There is no word yet on whether Blitz will begin offering its go-faster parts in Europe, but its showing at the Nurgurgring is sure to make companies such as Brabus and Schnitzer take notice.